Cocollos Oysters, methods and business

Traditions & FOCUSED ON THE FUTURE
Techniques & Enthusiasm

A team at the service of exceptional oysters
Jacques and Yvonne Cocollos, together founded their family business that practices the art of oyster farming with respect to the traditions and the benefits of the nature.
Therefore offering you products of exceptional terroir quality which carry the alliance of the land and the sea.
The Cocollos method is based on several techniques including natural collection, maturing in "claires", movement of oysters, finishing parks, etc.
All of these ancestral ways are reinforced by our competent and vibrant team which allows the smooth running of the business creating exceptional quality products. The Fines de Claire oysters are from Marennes-Oleron and the Speciales are from Ireland.
The Cocollos Oysters is a family affair. His wife Yvonne manages the shop, his dad manages the market in Cognac.
Richard his brother lives on the West coast of Ireland in order to keep an eye on the pearl oyster products.
And together with the trust and loyalty of our customers these are the essentials for the well being of "Cocollos Oysters".
Some key figures

the key informations
Future Developments
The acquisition and renovation of the "claires"
Cocollos team has seen the arrival of several new collaborators
Office extension works
Basins covered
Acquisition of new equipments on going
The strengthening of the company with the creation of a new website.
Our projects don't stop there, since the opening of our Boutique in Bourcefranc-le-Chapus we will soon expand a pleasant space for the tasting of oysters with parking areas, and guided tours. (...)
2002 Beginning of the brokerage company

2004 Beginning of the oyster farming

2009 Orientated to exportation

2011 Opening of the first warehouse at Bourcefranc-le-Chapus.

2016 Opening of the new upsized establishment

2019 Opening of the Cocollos shop

2020 Opening project of an Oyster bar
Nearly 300 tonnes of oysters shipped in 2019
A growth of 100% during 2019
A turnover of more than 1 million Euro
Open to the World

Export & acquisition of new oyster techniques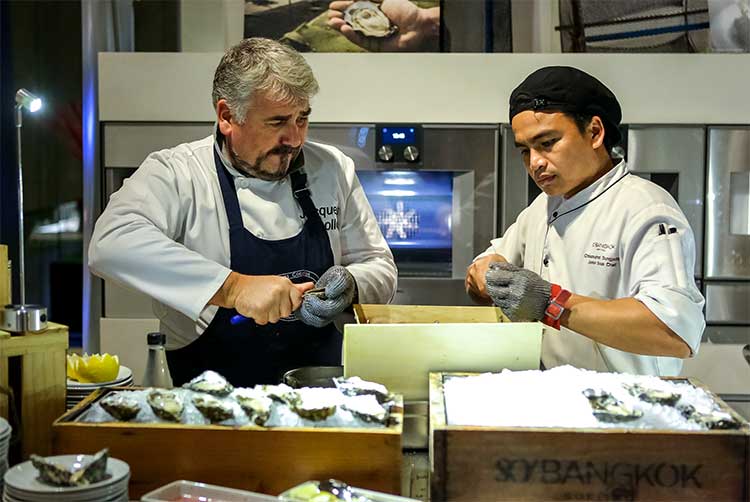 Jacques Cocollos at a trade fair in Bangkok
From the beginning, Jacques decided to focus on exportation. The Asian market was emerging for the demand of the finest oysters and gourmet products. Therefore Jacques now exhibits in the biggest international fairs to develop his brand: Brussels, Hong Kong, Qingdao, Dubai and even Singapore.
He has met many customers there and befriends prestigious chefs who value the quality of his oysters as much as the spirit of the company.
In parallel, Jacques travels to China, Australia, Denmark to acquire new techniques and improve his oyster knowledge on a regular basis.
Gallery

Overview in pictures
Videos corner

Cocollos Oysters resolutely turned towards the future
Producter & Oyster farmer
Marenne-Oleron & Ireland